6,077 total views, 3 views today
Firm in its commitment to providing quality service and excellent, equitable, and relevant educational opportunities beyond the bounds of location and distance, three additional partnerships and collaborations with international universities were formalized through the virtual ceremonial signing of a Memorandum of Understanding (MOU) during the second quarter of 2022.
Held on the 12th of May, the University of Guelph (U of G) based in Ontario, Canada inked an MOU with the University for future collaborations specifically in the field of veterinary medicine. The ceremony was well attended virtually by some of the officials from U of G, including Dr. Stuart McCook, Assistant Vice President for International Strategy and Partnerships, Dr. Gwen Chapman, Provost and Vice President for Academic; Dr. Jeff Witchel, Dean of Ontario Veterinary Medicine; Dr. Pavneesh Madan, Professor at Ontario Veterinary Medicine; and Ms. Natasha Fernandez, Internationalization Officer.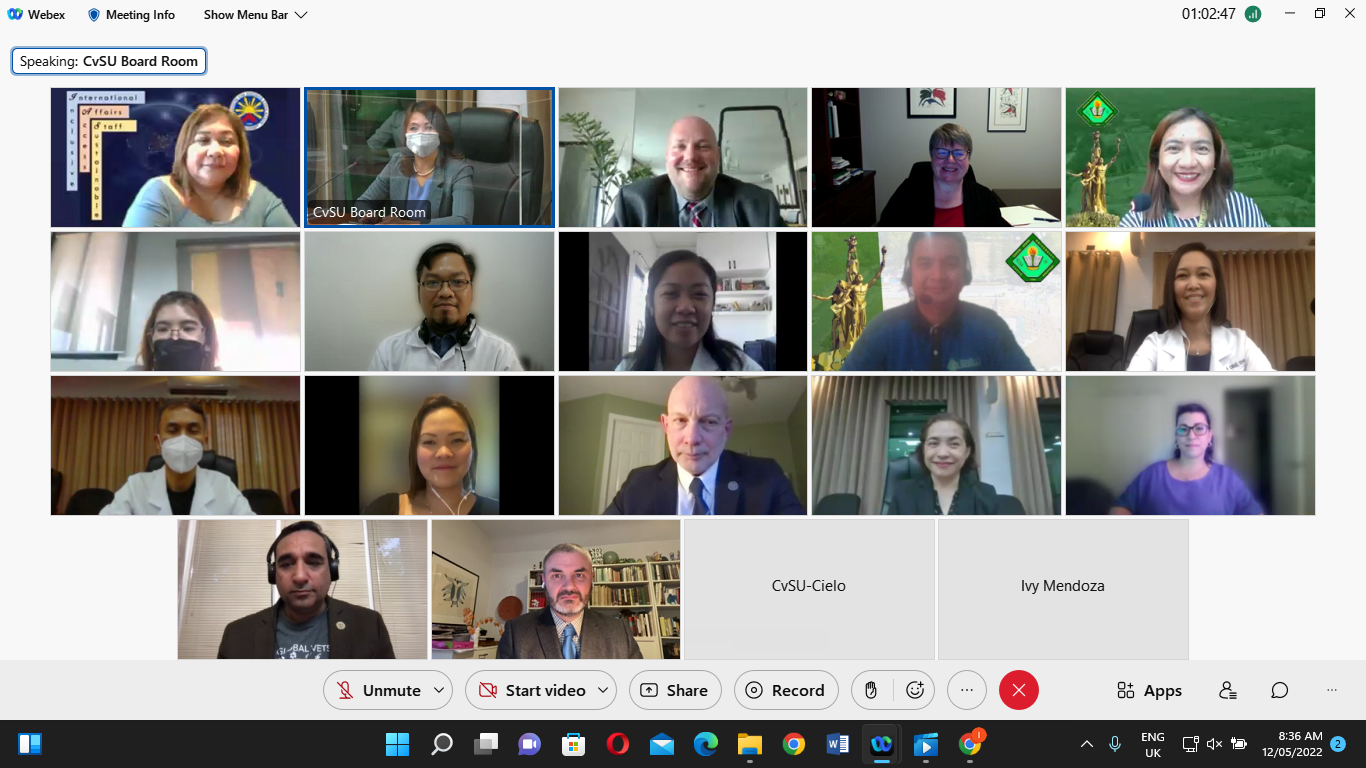 CvSU officials present were the Officer-In-Charge (OIC) of the Office of the University President and the Vice President for Academic Affairs Dr. Ma. Agnes P. Nuestro, OIC of the Vice President for Research and Extension Dr. Miriam D. Baltazar, Dean of the College of Veterinary Medicine and Biomedical Sciences, Dr. Cynthia N. Rundina-Dela Cruz along with CVMBS faculty members.
Officials from the Embassy of Canada also graced the activity including Senior Trade Commissioner and Commercial Counsellor, Mr. Guy Boileau along with the Trade Commissioners, Ms. Angel Cachuela and Ms. Ivy Mendoza. Commission on Higher Education (CHED) Director for International Affairs Staff Atty. Lily Freida M. Milla was also present during the virtual ceremony.
Moreover, another partnership was formalized with INTI International University and Colleges based in Selangor, Malaysia on 02 June 2022 by signing an MOU to facilitate faculty exchange programs, curriculum mapping, design and development, study abroad opportunities, academic progression, funding, and visiting scholar programs.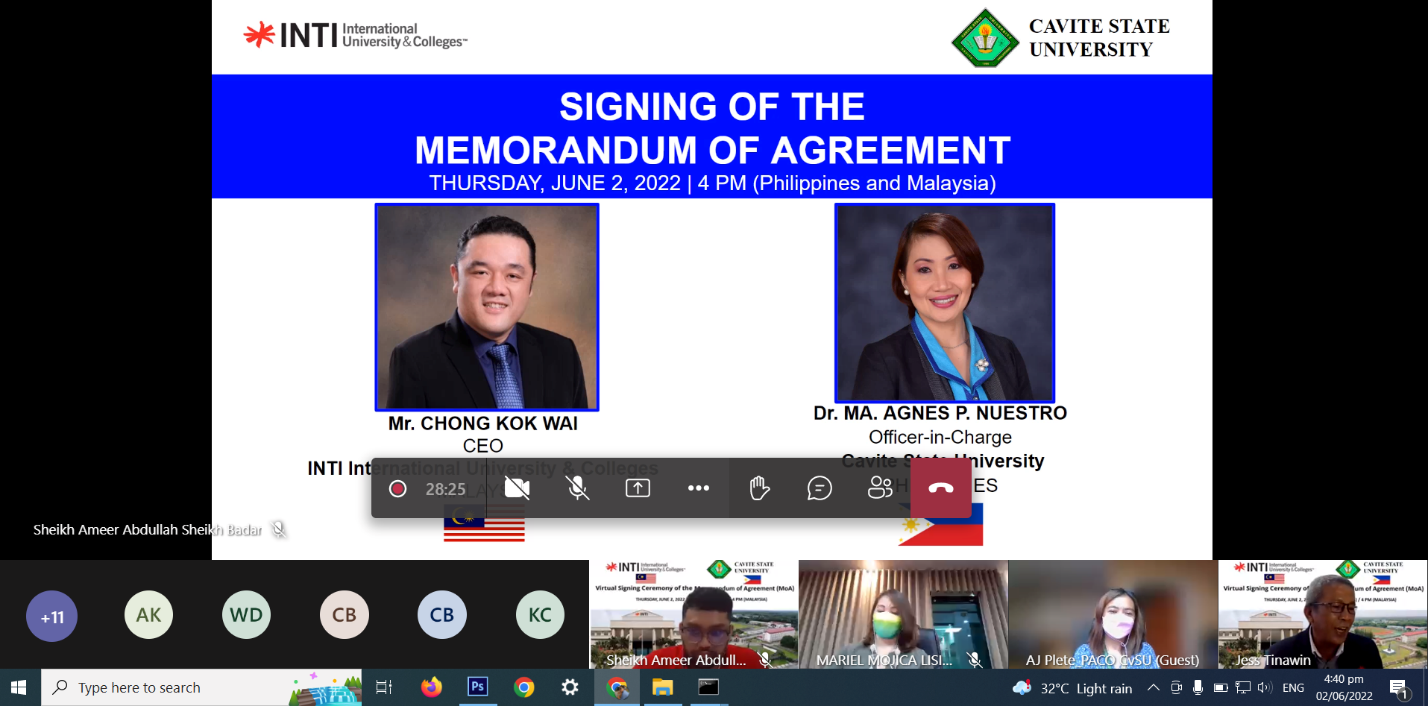 The MOU was signed by Dr. Nuestro and INTI Interim Chief Executive Officer (CEO) Mr. Chong Kok Wai. Witnesses were Vice President for Administrative Support and Services Dr. Camilo A. Polinga, along with INTI Vice President for International Business Development Mr. Jesus C. Tinawin, and Vice President for Sales Mr. Bryan Kong. Other officials from CvSU and INTI were also present including INTI Pro Vice Chancellor Dr. Choo Wou Onn.
To formally bind another collaboration on research projects, faculty and student exchange programs, seminars and conferences, virtual training and workshops, and the development of projects and programs, a MOU signing also took place between CvSU and Sripatum University (SPU) based in Thailand with Dr. Nuestro and SPU Vice President Dr. Wirat Lertpaitoonpan on behalf of the SPU President, Dr. Rutchaneeporn P. Phukkmarn, as signatories on 20 June 2022.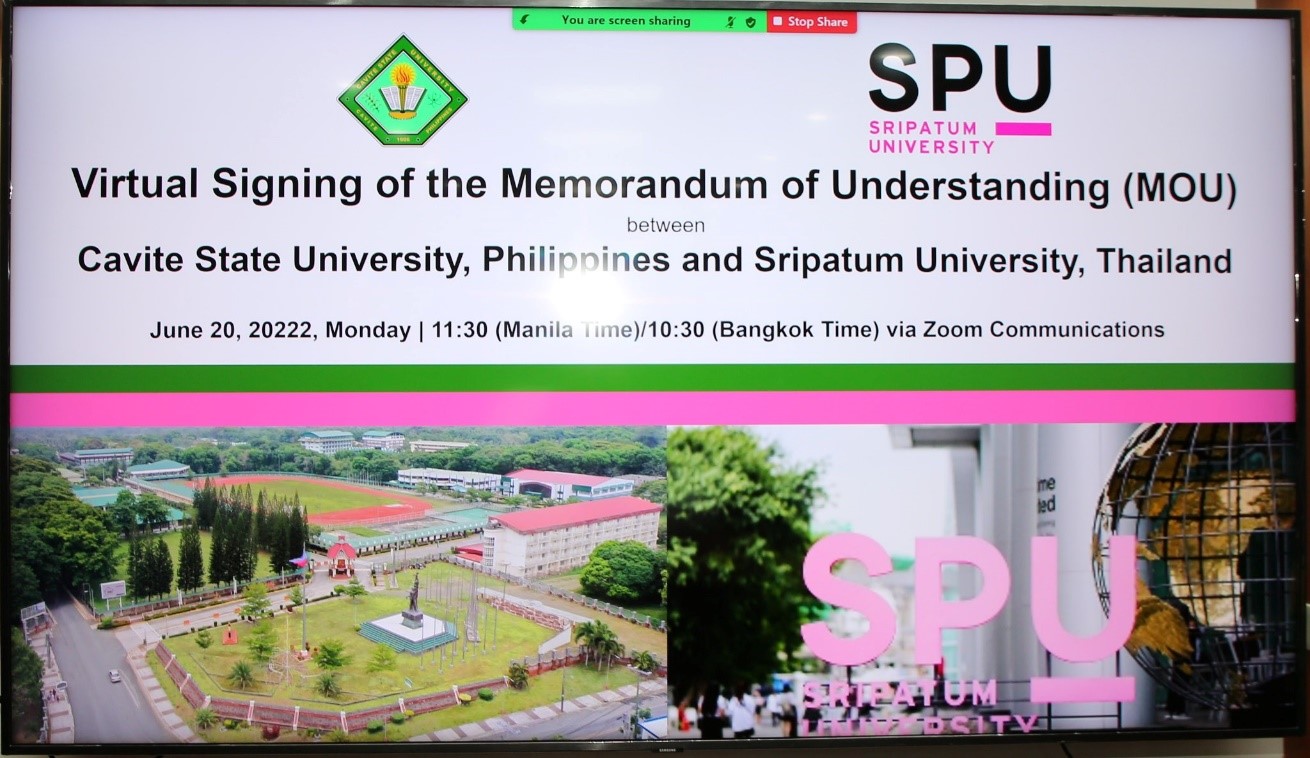 The continuous partnership of CvSU with international academic institutions is being made possible through the efforts of the International and Local Collaboration and Linkages Office (ILCLO) headed by Prof. Ma. Soledad Mojica-Lising. (CMGRafols)