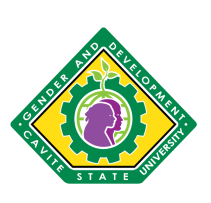 Milestone:
Cavite State University, formerly known as Don Severino Agricultural College (DSAC, was already actively involved in Gender and Development as GAD Representative to Southern Tagalog Agriculture Resources Research and Development Consortium (STARRDEC) in early 90's.
In 2012, the GAD Focal Point System (GAD-FPS) of the university headed by a chair was established through OP Memo No.46, s. 2012.
The Office of the GAD-FPS was housed at Hostel Tropicana in 2013 through OP Memo No. 69, s. 2013.
In 2015, the structure and composition of the GAD-FPS, headed by a Director, was approved by the Board of Regents through BOR Resolution No. 64, s. 2015 and OP Memo No. 12, s. 2016.
On July 16, 2015, the university was assessed by the Commission on Higher Education using the Gender Mainstreaming Evaluation Framework as Level 3 which means GAD Application.
On December 9, 2015, the University was awarded as the Most Outstanding State University in GAD Implementation in Calabarzon by the Regional Development Council, Calabarzon.
The university was accorded the same award on December 8, 2016.
The establishment of the GAD Resource Center of the University was approved by the Board of Regents through BOR Res. No. 77 s. 2016.
The university is able to triplicate its feat of being the 2015 Most Outstanding State University in GAD Implementation in Calabarzon on December 5, 2017.
For the fourth time, the university received its award as Most Outstanding State University in GAD Implementation in Calabarzon on December 6, 2018. Based on the Gender Mainstreaming Evaluation Framework Assessment from 2015 to 2017, the university obtained a GMEF Assessment of Level 4 (Commitment, Enhancement, and Institutionalization).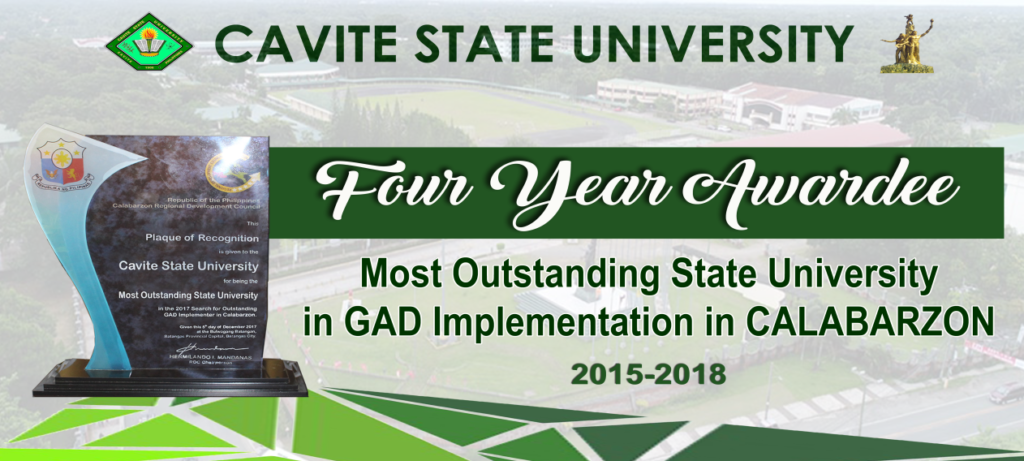 Vision
A gender responsive educational institution where stakeholders enjoy equal responsibilities and opportunities.
Mission
CvSU–GAD Resource Center shall integrate and advocate gender equity and equality principles and perspectives in providing instruction, research and extension services.
Goals.  The GAD Resource Center shall aim for:
Sustainable and gender responsive instruction, research, community development and involvement;
Gender equity and equality among the academic community;
Sustainable partnership and cooperation among stakeholders; and
Gender responsive governance.
Objectives:
Strengthen the capacity of faculty members in the integration of GAD and other issues and concerns in the course syllabi and instructional materials;
Enhance data and information on women's' participation in politics, economics, education, peace and order and other activities, and disseminate information to clients;
Improve level of understanding, awareness, and responsiveness of residents of the community and members of other organizations on GAD issues and concerns and laws on women;
Establish a repository for gender-related instruction, research, and extension materials and other forms of literature on gender and development;
Strengthen accessibility of men and women to knowledge management products, resources and networks;
Establish networks and linkages with other local, national, and international organizations;
Ensure that the sex-disaggregated data and other vital information obtained from its operations shall be used as basis in decision making processes; and
Sustain the gender mainstreaming efforts of the University.
Directory
Dr. Susan G. Tan

Director
Gender and Development Resource Center
1st Floor Old College Library Building
Telephone No: (046) 443-2546
Email address: gad@cvsu.edu.ph
Facebook account: gadcvsu@gmail.com
Knowledge Products