Beating 11 other finalists with his STARRT approach, Mr. Lloyd O. Balinado, a faculty member from College of Arts and Sciences – Department of Biological Sciences, won first prize in the first-ever BioTakTik Contest of BIOTA-Philippines, Inc – a national organization of biology teachers. BioTakTik aims to showcase different online strategies and best practices in teaching biology that may be adapted by biology teachers nationwide.
Mr. Balinado shared his online strategy dubbed as STARRRT approach that he uses in his classes, which includes 7 tactics that can support effective teaching of biology subjects:
S-Screencast T-Think-Talk A-App Store R-Reel Time R-READy to Learn R-Recall Questions T-Task Zone. According to him, "this simple approach keeps my students well guided, supports all types of learners, and ensures learning even beyond the synchronous class sessions."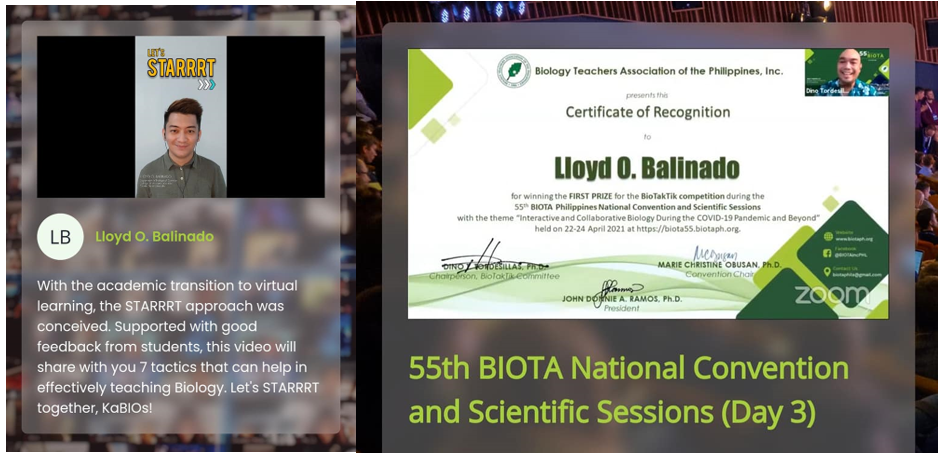 He even made an evaluation form and was able to get good feedbacks from his students in terms of appropriateness with the subject, quality of delivery, and student satisfaction.
Here are some of his students' feedback on the STARRRT approach:
On Screencast:
"Sa gaya kong working student na di nakakaattend sa mismong klase super pabor po ako dito. At may time pa ako ibalik yung bagay na di ko naintindihan."
"The screencast lectures are very efficient and time friendly because we can watch it anytime we can."
On Think-Talk:
"Think talk challenges our mind and helped me to better understand or to be a critical thinker in every situation."
"It is really helpful and it also gives a chance for us to interact like in a normal f2f class setting." "It tickles my mind every time there's a think-talk and let me explore more about the topic."
On App Store:
"It is a great way of applying the concepts in the real setting. This approach helps me to reinforce the acquired theories and concepts through specific examples and real-world problems."
"Nabibigyan kami ng idea sa isang topic dahil sa examples na binibigay, at mas nabibigyang linaw yung concept dahil dito."
On Reel Time:
"Reel time helped me to gain more knowledge through watching videos. It helps us to have a better understanding and application of the lesson."
"Reel time contributes more knowledge and it fills the curiousity of students on a particular topic."
"This very important and helpful po for better understanding the lesson kasi some students like me mas natututo po through visual perspective (pictures, documentary, or animation) lalo na po kung process po ang pinag-uusapan."
On READy to Learn:
"The scientific journals and articles that have been provided through "READy to learn" section made the concepts much clearer and supply additional information on the topic."
"This somewhat prepares me for research, since we are biologists. This is a great practice in preparation for our higher years when we will make our thesis."
On Recall Questions: "One of my favorite parts wherein you can create a reviewer based from the questions."
"This approach really tests my memorization, comprehension, and process-based data organization."
"This is what I love most, it helps me evaluate on which parts I am having trouble grasping."
On Task Zone:
"This gives us the opportunity to apply our knowledge on an output-based performance. It also utilizes our critical thinking, teamwork, and even creativity."
"The tasks given were a test of concept understanding and creativity. This approach like in our biotechnology course helps me to integrate the theoretical knowledge into a real-world scenario."
The BioTakTik competition took place during the virtual 55th BIOTA National Convention and Scientific Sessions held on 22-24 April.