1,362 total views, 1 views today
Funded under the 2021 Alumni Meet Small Grants Phase II with US Embassy,  Fulbright FLTA Alumni Association Philippines and Cavite State University  collaborated for the implementation of a language-related project entitled " WALK THE TALK: Webinar-Workshop to Advance Language Network and develop an online Teaching and Learning Kiosk for English Language Educators" from October to December 2021.
The said project was facilitated by faculty members under the Department of Humanities in partnership with Language Study Center and Pragmaticus, the student organization of CvSU students taking up BA English Language Studies. This aims to address changes and challenges in language teaching as English language educators from various institutions around the country participate.
WALK THE TALK is composed of three components: 1) webinar series on teaching English online; 2) daily lesson log/learning guide competition for all participants; and 3) development of an online kiosk where sample lesson logs may be accessed for free.
The two-part webinar was conducted on 27 and 29 October with the following topics: 1) e-Module Preparation by Dr. Hazel D. Joaquin of Capiz State University; 2) Humanizing Teaching Online by Dr. Anne Richie G. Balgos of De La Salle University – Manila; 3) Assessment of Activities in Language Classes in the New Normal by Ms. Luisa Mejia, Virtual English Language Fellow from Florida, USA; and 4) Interactive and Engaging Teaching Strategies by John Paul dela Rosa, Fulbright FLTA  Alumnus from Tarlac National High School-Annex.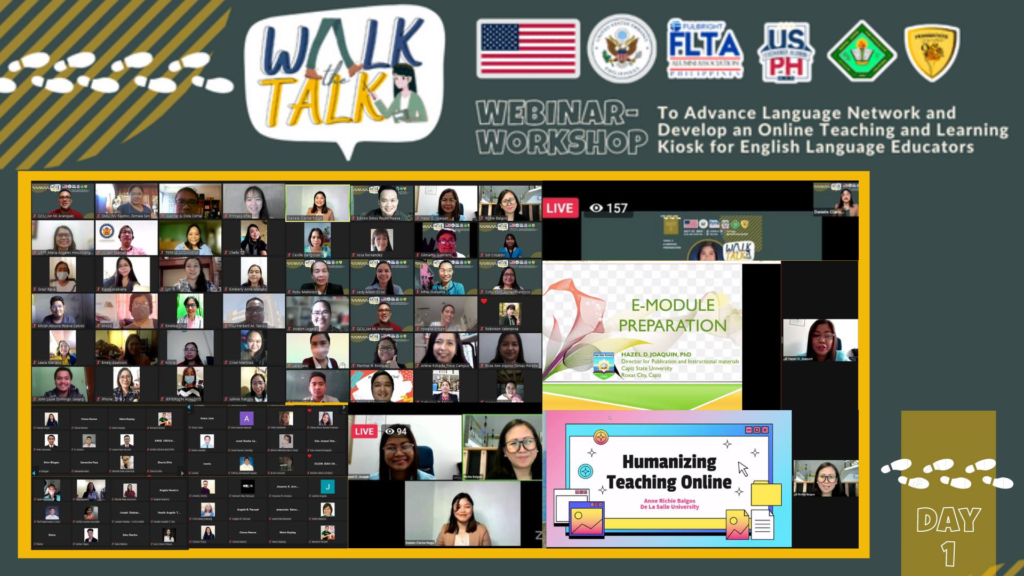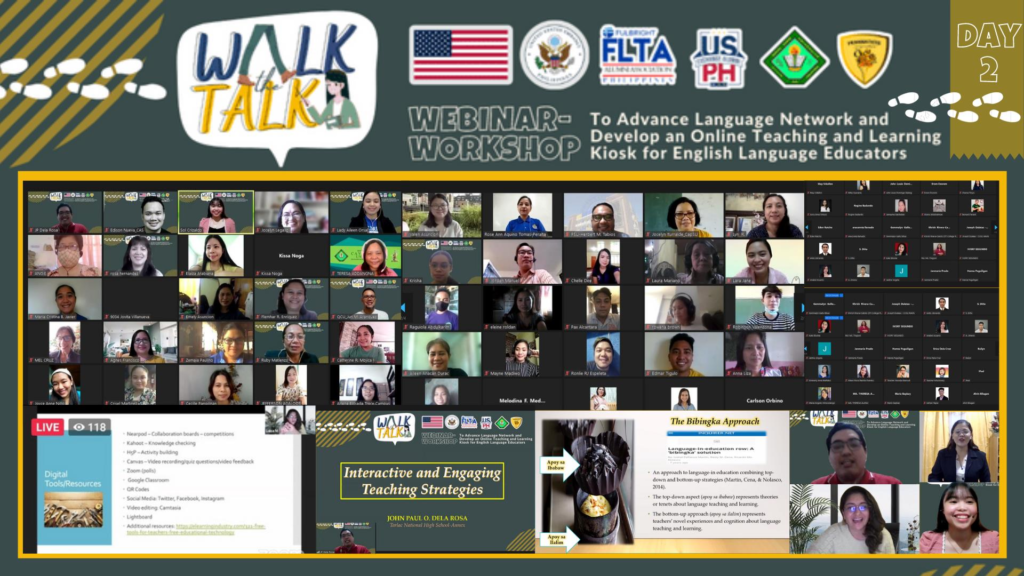 More than 200 faculty members and students from 66 educational institutions around the country attended the said webinar series. Dr. Irish F. Dalona, President of Fulbright FLTA Alumni Association Philippines also inspired the participants with her message while also promoting the scholarship opportunities offered by Fulbright.
Early this 2021, the webinar "TEACH AND REACH" organized by the Central Luzon State University, through the Phase I of the grant has tapped on the innovative strategies in the teaching of language and literature in Region 3 and other provinces. This second project aims to expand the network of English language educators and develop an online kiosk of accessible teaching materials to a greater number of beneficiaries in the country. Materials for the website will be coming from the competition which will recognize four best entries in Reading, Writing, Listening and Speaking.
This project aims to move from knowledge acquisition to creation which is a more sustainable way of preparing for a future-proof English language education. (LAOrsal)