Ezekiel Dela Cruz, a 5th year BS Architecture student, was hailed Champion during the 1st STRUKTURA Design Competition with the theme, "Affordable Housing for a Better Normal" sponsored by SCG, a leading conglomerate in the ASEAN specializing in world-class construction materials, and Mariwasa, a pioneer in the Philippine ceramic tile industry.
The contest aimed to showcase the skills and creativity of architecture students from different colleges and universities in the country and challenged local architecture students to develop ideas for disaster-proof and innovative Filipino homes. The initiative also focused on addressing housing backlogs, with the hopes of providing sustainable home ideas as the country continues to fight COVID-19.
Dela Cruz clinched the top spot with his design entry, 'BAHAY CoMbo', (a moniker derived from the Tagalog term, 'Bahay Kubo'), which means 'a house made up of the combination of concrete and bamboo.' The overall design is a modern take and twist from the traditional bahay kubo's conventional construction methodology, vernacular materiality and multi-functionality. His winning design earned him a cash prize of Php 100,000 plus a gaming laptop while his adviser and the University got a cash prize Php 15,000 and Php 30,000, respectively. Architect Kenn Paolo Valero from the Department of Civil Engineering of the College of Engineering and Information Technology served as the design mentor and concept coach.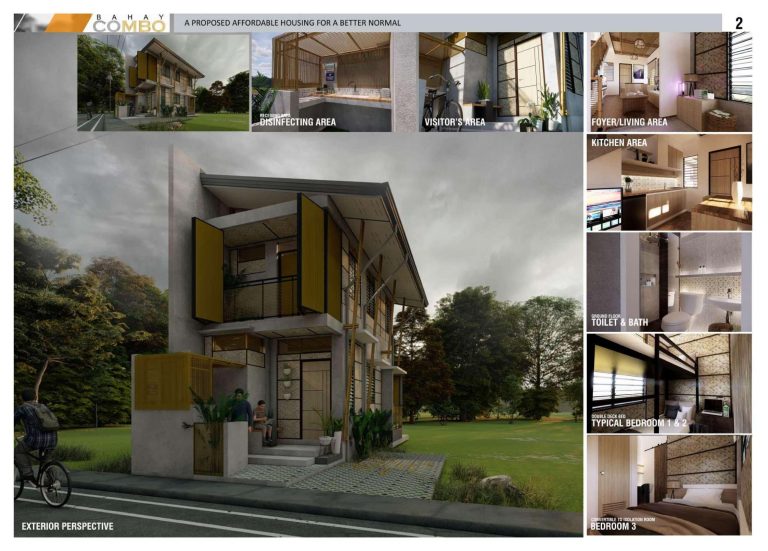 Here are the Top 10 finalists in the competition:
| | | |
| --- | --- | --- |
| NAME | ENTRY | SCHOOL |
| EZEKIEL DELA CRUZ | BAHAY COMBO | CAVITE STATE UNIVERSITY |
| CHESTER NEIL  CUNANAN | KUWADRADO | UNIVERSITY OF THE PHILIPPINES – DILIMAN |
| HAMMIDA  SUMPINGAN | THE REFUGE | RIZAL TECHNOLOGICAL UNIVERSITY – BONI |
| KHRISTOFHER GIL  BAMBILLA | KASA HAPINOY | TECHNOLOGICAL INSTITUTE OF THE  PHILIPPINES – MANILA |
| JOSHUA BRIAN PHIL  DELATADO | AGPANG | TECHNOLOGICAL INSTITUTE OF THE  PHILIPPINES – QC |
| JUAT JORAM | PAGTAENGAN | NATIONAL UNIVERSITY – MANILA |
| VIELLETE ANGELA  MARIE ARDEVELA | META OASIS | TECHNOLOGICAL INSTITUTE OF THE  PHILIPPINES – QC |
| DHENNIES RIVAS | KUBO 'NG' 20 | NUEVA ECIJA UNIVERSITY OF SCIENCE AND  TECHNOLOGY |
| LOUIS PHILIP BAYLA | LU-CID HOUSE | CAGAYAN DE ORO COLLEGE |
| FRANCIS JOHN PAUL  VIDAL | M.A.R.S. | DE LA SALLE UNIVERSITY – DASMARIÑAS |
The entries were judged based on: Architectural Planning and Design (40%), Innovativeness (20%), SCG and Mariwasa Product Usage (20%) and Sustainability (20%). (RPPeña)