The Civil Service Commission (CSC) Regional Office IV virtually held its 2021 Program to Institutionalize Meritocracy and Excellence in Human Resource Management (PRIME-HRM) Recognition Rites on 15 December.
One of the five honorees for two HR Systems is Cavite State University – for meeting the standards/indicators for PRIME-HRM Maturity Level 2 in Recruitment, Selection and Placement (RSP) and Performance Management based on the validated self-assessment and evidence requirements presented.
With the perseverance of CvSU Human Resource Development Office (HRDO), headed by Dr. Mary Jane D. Tepora, to elevate the institution's level of excellence for good governance and efficient public service, the University had undergone series of validations with the expert assistance of the CSC Regional Office IV for PRIME-HRM.
The CvSU PRIME-HRM journey all started on February 2020 with direct assistance from Civil Service Commission (CSC) Field Office. Throughout the year, various evidence requirements were submitted following the observations of CSC until all requirements were fulfilled in November 2021. Along the process, the University observes merit and fitness in the recruitment selection and placement of qualified and competent faculty members and staff. Through the collective efforts of all administrators and employees as measured using the CVSU Strategic Performance Management System, the University was able to provide various human resource interventions to achieve and sustain long term institutional goals.
In his recorded acceptance speech, Dr. Hernando D. Robles said that the recognition serves as proof of the University's relentless commitment to consistently deliver quality services and promote people excellence. He also acknowledged the dedication and collaborative efforts of the men and women behind CvSU's PRIME-HRM journey.
Together with Dr. Robles during the virtual recognition rites are VP for Academic Affairs Dr. Ma. Agnes P. Nuestro, Dr. Mary Jane D. Tepora, RSP Unit Head Dr. Florindo C. Ilagan, and Finance Management Office Director Ms. Lolita G. Herrera.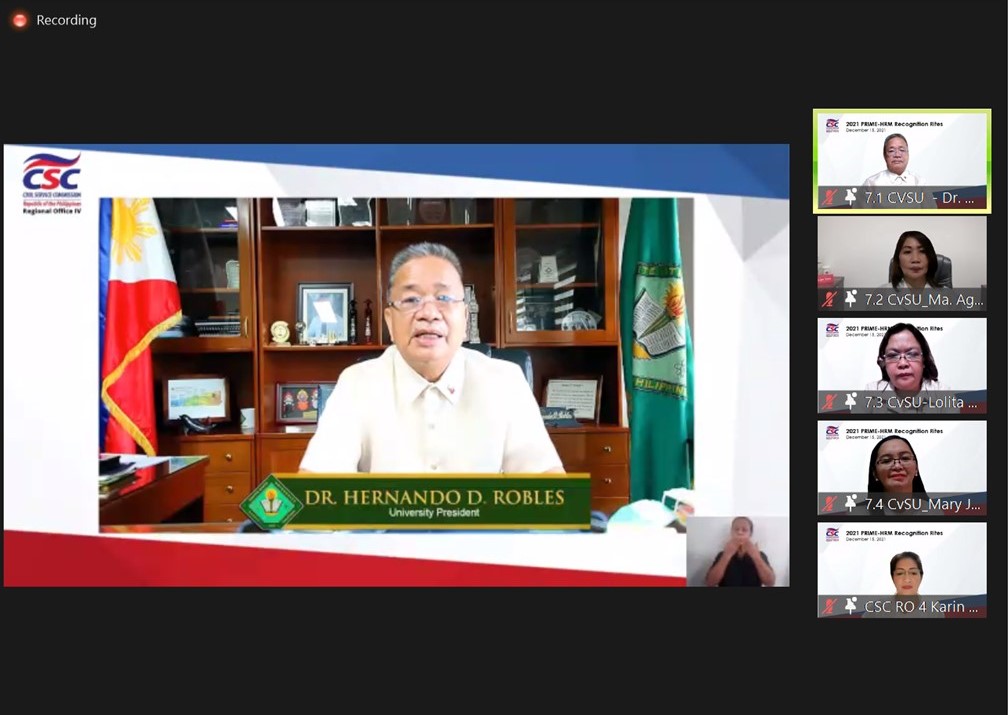 CvSU HRDO's Recruitment, Selection, and Placement Unit is headed by Dr. Ilagan while Prof. Quintin Subong heads the Performance Management Unit.
The PRIME-HRM aims to successfully transform the agencies' HRM systems, competencies and practices to elevate public sector human resource to a level of excellence for good governance, and efficient and effective public service delivery. (MJDTepora & FCIlagan)