3,750 total views, 84 views today
In support of the National Women's Month Celebration and to raise awareness on Cancer Prevention, the university's Gender and Development Resource Center (GADRC) successfully conducted a webinar entitled "Webinar on What Every Woman Should Know about Gynecologic and Breast Cancer" on March 23, 2023, via Zoom and Facebook Live.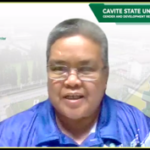 Dr. Susan G. Tan, Director of the GADRC, delivered the welcome remarks on behalf of Dr. Hernando D. Robles, University President, expressing his gratitude to the center for organizing such a timely webinar to educate CvSU's clientele about gynecologic and breast cancer. Dr. Robles encouraged everyone to take advantage of this opportunity and to help disseminate cancer screening information and awareness. He also expressed appreciation to all the resource speakers and hoped for a fruitful webinar.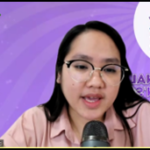 Dr. Mae Florence Chia Hilario-Ferrolino, a College of Medicine (CoM) Faculty Member, discussed gynecologic cancer as any cancer that begins in a woman's reproductive organs and can be found in various locations inside the pelvis, a region beneath the stomach or belly and between the hip bones. According to Dr. Ferrolino, there are five forms of gynecologic cancer and stressed that ovarian, uterine, and cervical cancers are the most frequent cancer diseases among women. She explained that cervical cancer happens when abnormal cells inside the cervix proliferate in an unregulated way, forming tumors that can spread to other organs in the body. She also talked about endometrial cancer, which starts in the layers of cells that make up the uterine lining (endometrium); and ovarian cancer, which begins in the ovaries or associated parts of the fallopian tubes and the peritoneum. She also added the risk factors for ovarian cancer and its symptoms such as bloating, trouble eating, pelvic or stomach pain, frequent urination, feeling full after small meals, vaginal discharge, irregular vaginal bleeding, and post-coital vaginal hemorrhage.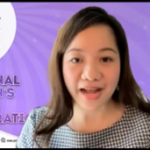 Dr. Tiffany Irish E. Rentillo-Guilas, faculty member from CoM, talked about breast cancer emphasizing the importance of its early detection in saving lives. She enumerated breast cancer signs such as changes in the appearance and texture of the breast (redness, lump in the breast, swelling, lump in the armpit, orange-peel texture, and dimpling) and nipple changes (discharge, pulling in, change in direction, ulcer, and scaliness). Breast cancer screening was also discussed, which includes a doctor-assisted or self-assessed breast exam and imaging (a mammogram, a breast ultrasound, and a breast MRI). Furthermore, Dr. Guilas explained how to perform self-assessment, which should be done 7-10 days after the menstrual cycle by monitoring the breast appearance and touching or assessing the breast. The breast can be assessed using circles, wedges, and/or lines. She recommended seeing a doctor about the unique risks of breast cancer and adopting a healthy lifestyle.
On the other hand, the winners of the TikTok Contest out of eight (8) entries received by the GADRC were also announced during the webinar. The third place was awarded to CvSU CCAT Campus with an average score of 82.80%, the second place was awarded to Tourism Students Association with an average score of 84.91%, and the first place was awarded to CSPEAR Performing Arts Troupe with an average of 89.96%.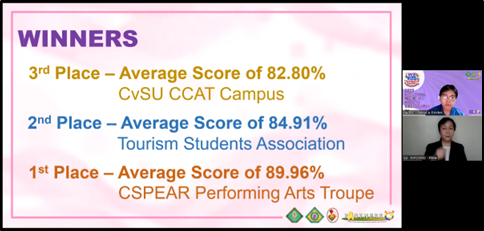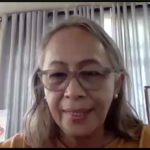 Dr. Eleanor J. Galvez, Dean of the College of Medicine, stated in her closing message that the webinar is extremely relevant, with the themes covering the most frequent causes of illness and death in the country today. She also emphasized the significance of screening and early detection and urged participants not to be frightened to present themselves early enough for the diagnosis of disorders connected to gynecologic and breast cancer.
Mr. Leonard V. Paunil, GAD Alternate, CvSU Carmona Campus served as moderator for this activity. (MCPSioco)