To sharpen the training skills and core competencies of Gender and Development (GAD) coordinators/ alternates and officers, and members of Cavite State University (CvSU) MOVE KATROPA, and to better comprehend, strategize, organize, and deliver gender equality and gender mainstreaming training, the university's Gender and Development Resource Center (GADRC) conducted a two-day Workshop on Gender-Responsive Presentation on August 2-3, 2023, at the Babaylan Training Room, GAD Resource Center.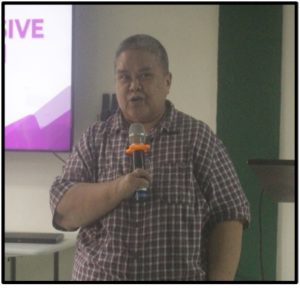 To formally start the workshop, Dr. Susan G. Tan, GADRC Director, welcomed the participants to the workshop on behalf of University President Dr. Hernando D. Robles, CEO VI. She emphasized the importance of effective gender-responsive oral communication and PowerPoint presentation preparation.
Ms. Hazelyn H. Dela Cruz, CvSU Silang Campus GAD Coordinator, discussed the workshop's objectives, program flow, and house rules. Ms. Janeal Krayjn Rebutazo, GADRC Training Coordinator, presented a video of the Benchmarking and Training of Trainers (TOT) on GAD held in Laguna on July 11-14, 2023.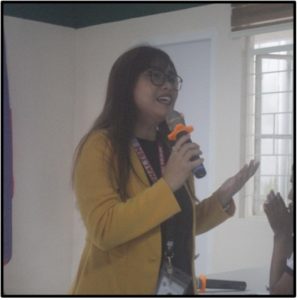 Dr. Racquel G. Agustin, a faculty member from the College of Arts and Sciences (CAS), discussed the principles of effective communication, emphasizing the importance of accountability and responsibility. She tackled the advantages of communication, such as minimizing conflict, establishing bonds, and building strong relationships, while also highlighting the disadvantages such as increased risk of negative outcomes, stress, and strained relationships. Dr. Agustin also introduced the GAD-CVSU way of communication, which involves getting to the point, considering the audience, double-checking for accuracy, being concise, considering both verbal and non-verbal cues, speaking confidently, and aiming to understand the message as the main goal.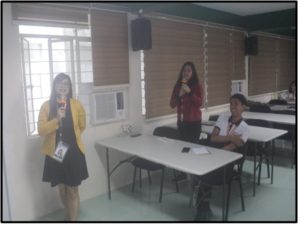 In the afternoon, groups 1 and 3 from the previous TOT on GAD presented their assigned topics Gender-Fair Language (GFL) and Gender Sensitivity Orientation (GSO), respectively. Dr. Agustin commended Mr. Alfie Carl A. Battung, GAD Alternate, for his impressive presentation and vocal projection. He also lauded everyone for their successful presentations, emphasizing that speech anxiety and apprehension are natural but the participants presented their topics well, with several receiving good marks.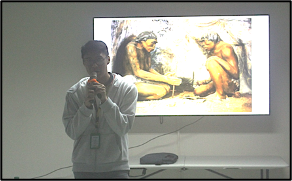 During the second day of the workshop, Mr. Ruel P. Mendoza, College of Education (CED) GAD Coordinator, delivered a summary of the discussions from day 1 and shared what he learned from Dr. Agustin's presentation.
Dr. Bernard S. Feranil, a faculty member of CAS, discussed effective oral communication, misconceptions, and errors in technical presentations. He emphasized the importance of strengthening presentation muscles and overcoming speech anxiety. Dr. Feranil advised how to properly start and end presentations, as well as the proper delivery style. He stressed that the speaker should be the focal point, so they must prepare and practice their presentation style. He also highlighted the three forms of oral presentations: purpose-based, delivery-based, and occasion-based.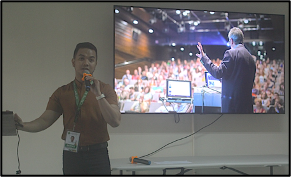 In the afternoon, group 2 of the last TOT on GAD demonstrated the importance of VAW laws, including Anti-Sexual Harassment (RA 7877), the "Bawal ang Bastos" Law (RA 11313), and Violence Against Women and their Children (RA 9262). Dr. Feranil commended Mr. Marc Darrel P. Alcazar, College of Criminal Justice GAD Coordinator, and Ms. Veronica L. De Villa, University Library GAD Coordinator, for their excellent presentations, highlighting their convincing and knowledgeable presentations. He also lauded Ms. Maria Czarina P. Sioco, GADRC's In-Charge for Data Banking and Publication, for her excellent rhetorical presentation technique.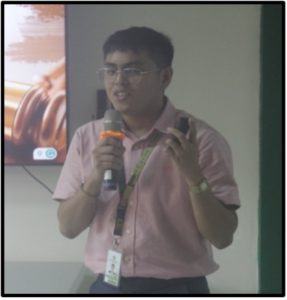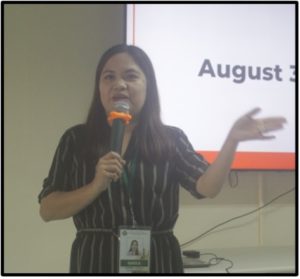 To wrap up the workshop, Ms. Raecel A. Estebat, GADRC's In-Charge for Planning, Monitoring, and Evaluation, congratulated everyone for completing the workshop and mentioned several potential trainers for mainstreaming gender and development. Mr. Leonard V. Paunil, GAD Alternate, moderated the two-day activity attended by 13 female and 18 male CvSU personnel. (MCPSioco)