1,864 total views, 1 views today
Aimed at eliminating barriers in employment and digital divide amidst pandemic, the Department of Entrepreneurship of CvSU – Imus Campus successfully spearheaded the "PREP (Preparation for Relevant Employment Prospecting) Career Talk," together with the Cavite Young Leader for Entrepreneurship (CYLE), an online skills enhancement training for BS Entrepreneurship students held on 28 May 2021 via Zoom.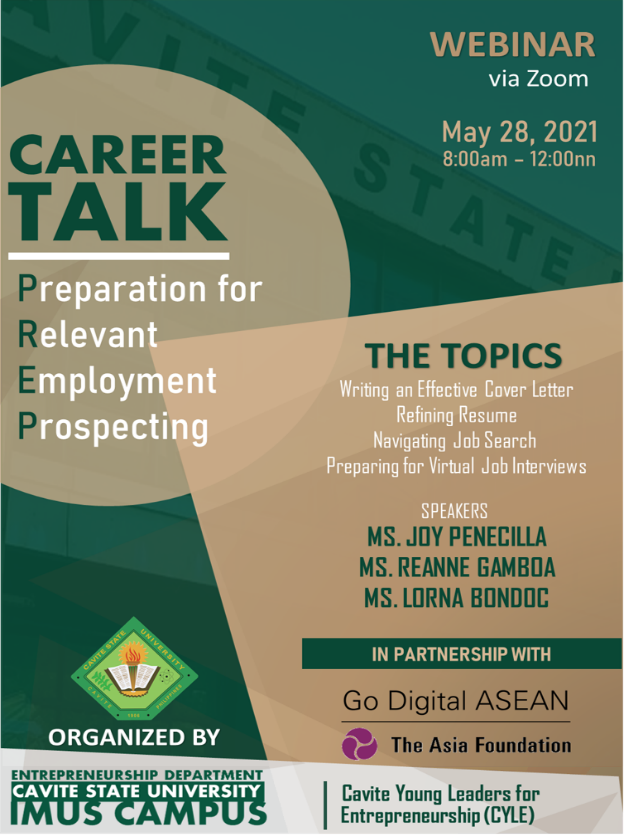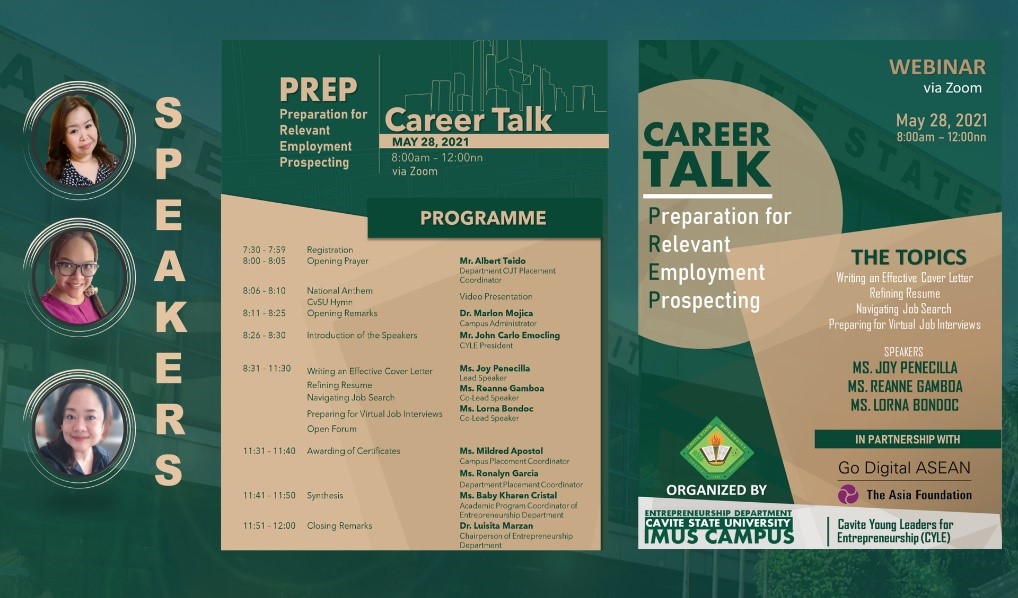 Topics discussed during the webinar include writing an effective cover letter, refining a resume, navigating job search, and preparing for virtual job interviews.  Key takeaways from the event provided graduating students the necessary information and skills to facilitate possible internship and employment opportunities.
The event was in partnership with the Asia Foundation's Go Digital ASEAN, which advocates digital skills training initiative, implemented across all ten ASEAN member states, including the Philippines. The program equips jobseekers, and micro, small, and medium enterprises (MSMEs) with the tools and proficiencies necessary to access and participate in the digital arena to expand economic opportunity across the ASEAN Member States and minimize the negative impact of the Covid-19 crisis.
The Go Digital ASEAN-Philippines training team was headed by Consultant Mr. Jowil Plecerda and Program Lead Mr. Patrick Bolaños, with the best line-up of prominent HR practitioners from the industry. The senior trainers, namely Ms. Joy Penecilla, Ms. Reanne Gamboa, and Ms. Lorna Bondoc, graciously shared their expertise and handled the most interactive open forum with the most suitable answers to the frequently asked questions. Further exchange of corporate experiences among the resource speakers highlighted best practices in hiring the perfect match for the job while accentuating employable skills. (LAMarzan/RIGarcia/LVGOcampo)