6,135 total views, 3 views today
The Philippine-American Educational Foundation has released the list of the new set of scholars under the 2022-2023 Fulbright-CHED PhD Scholarship Program. Among the new set of 'Fulbighters' are two faculty members from Cavite State University.
Ms. Arvie Grace B. Masibag, an instructor from the Department of Biological Sciences – College of Arts and Sciences (CAS) will be pursuing a doctoral program in pharmaceutical sciences at the Graduate School of the University of Rhode Island. She serves as the CAS Research Coordinator and is also a faculty member of CvSU-Graduate School and Open Learning College (GSOLC) for the Master of Science in Biology and Master of Arts in Education major in Biology programs.
Ms. Mariel C. Benigno, on the other hand, is an instructor from the Department of Fisheries and Aquatic Sciences at CvSU-Naic Campus. She will be taking up a doctorate in nutrition and food science at Louisiana State University.  Aside from teaching, she also serves as a research project collaborator and extension coordinator in her department.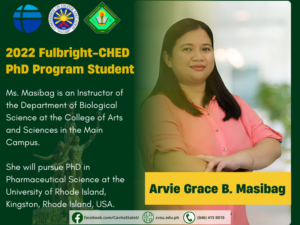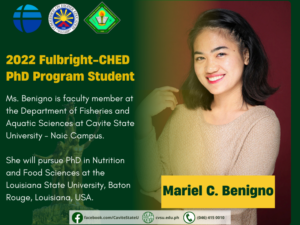 As 'Fulbrighters', they will be supported by granting funds for tuition and other fees, monthly allowance, travel expenses, health insurance, books, and supplies. The said scholarship is granted to faculty and staff qualified to pursue doctorate programs who are currently affiliated with CHED-recognized higher education institutions for the advancement of the Philippines' education system and to hone and capacitate more innovative leaders.
In 2020, two faculty members from the university also qualified for the said scholarship. Ms. Amyel Dale L. Cero, who is currently taking up PhD in Environmental Science at the State University of New York – College of Environmental Science and Forestry (SUNY-ESF), and Ms. Sheryl N. Sierra, who is enrolled under the the PhD in Agronomy and Horticulture major in Plant Breeding and Genetics program at the University of Nebraska – Lincoln. (CMGRafols)