Cavite State University Gender and Development Resource Center conducted a webinar entitled My Pulpol Love: A Webinar on Preventing Early Pregnancy held on February 23, 2023, via video conferencing and Facebook live.
On behalf of Dr. Hernando D. Robles, University President, Dr. Susan G. Tan, GADRC Director delivered the opening message of the webinar. Followed by the discussion of the Objectives, Program Flow, and House Rules of the activity presented by Ms. Janeal Krayjn Rebutazo, GADRC Training Coordinator.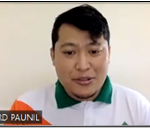 Mr. Leonard V. Paunil, Secretary of MOVE KATROPA. discussed the topic of Crush Landing Sureball ka na ba? Attraction, Dating, and Courtship Online Courtship where he mentioned four (4) factors that may influence attraction including physical attractiveness, similarity, proximity, and reciprocity. He emphasized that courtship entails the purpose of getting married and that being in a relationship is a serious matter. In his presentation, Mr. Paunil outlined the four stages of dating relationships such as the first meeting or attraction, curiosity, interest and infatuation, enlightenment and becoming a couple, and commitment or engagement. He also discussed online courtship and emphasized that the development of technology has made us considerably more casual about interpersonal interactions.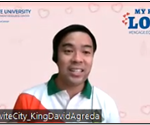 Mr. King David J. Agreda, President of MOVE KATROPA, discussed the topic entitled I'm Too Sexy (Responsible Sex): Relationship Boundaries. Mr. Agreda began the discussion by defining a boundary and explained its four types in a relationship: financial, intellectual, emotional, and sexual. He emphasized that boundaries are personal and flexible and highlighted that engaging in sexual behavior at a young age is risky and that once you do it, you stand to lose far more than gain.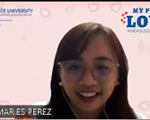 Ms. Thea Maries P. Perez, CvSU MOVE KATROPA Trainer, talked about the topic Napakasakit M.U… Walang Tayo… Pusong Nagdurugo: Early Signs of an Unhealthy Relationship. According to Ms. Perez, red flags in a relationship include control, dishonesty, disrespect, dependence, and violence. She highlighted the various forms of abuse, unhealthy relationships, and how to manage early warning signs.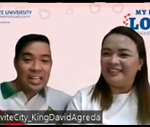 The power couple, Mr. King David J. Agreda and Ms. Regine Azereth T. Agreda also talked about Kasal o Kasal-kasalan: Engagement and Wedding. They presented a brief video about their love journey. According to them, an engagement is a period before marriage, beginning with the decision to marry and ending with the wedding ceremony itself. They also cited that marriage is one of the oldest social institutions in history they discussed the indicators of a healthy partnership.
Dr. Evelyn M. Del Mundo, Dean of, the College of Nursing delivered the closing remarks, expressing her gratitude to the Gender and Development Resource Center for organizing an informative webinar. She also extended her appreciation to the resource speakers and hoped that everyone benefitted from their knowledge. (MDPAlmarez)